Presented by ABA Productions and Shakespeare's Globe

September 26th and 30th 2018
The Hong Kong Jockey Club Amphitheatre, The Hong Kong Academy for Performing Arts

In Venice, the epicentre of consumption, speculation and debt, Bassanio borrows money from his friend Antonio to finance his attempt to win the hand of Portia, a wealthy heiress. Antonio, in turn, takes out a loan from the moneylender Shylock. The loan will be repaid when Antonio's ships return to the city. But if they should fail, and the money cannot be repaid, Antonio shall give to Shylock a pound of his own flesh. And they do fail. And Shylock will have his 'bond'.
In some of his most highly-charged scenes, Shakespeare dramatizes the competing claims of tolerance and intolerance, justice and mercy, while in the character of Shylock he created one of the most memorable outsiders in all theatre.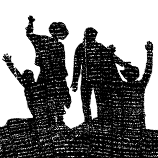 A 10% discount is available for groups of ten or more. For CORPORATE and SCHOOL BOOKINGS, please call 2547 7150 or email info@aba-productions.com
Running time is approximately 2 hours 15 minutes including an interval. The show will be performed in English.
由ABA PRODUCTIONS及莎士比亞環球劇團聯合主辦
2018年9月26及30日
香港賽馬會露天劇場,香港演藝學院
這個故事發生在威尼斯這個消費丶投機和債務的中心地帶。巴薩尼奧(Bassanio)一心要娶波西亞(Portia)為妻,並希望透過由好朋友安東尼奧(Antonio)那裡借來的錢,以贏得這位有錢女繼承人的歡心。而安東尼奧為了籌錢予好友,決定向由靠放高利貸收取高額利息為生的猶太人夏洛克(Shylock)借錢,而若不能如期還款的話,就必須割下自己身上的一磅肉以在抵債。結果安東尼奧的合同到期,惱怒的夏洛克要求他履行諾言,並引發出一連串爭吵及笑料⋯⋯
《威尼斯商人》充滿一幕幕緊張激烈的戲劇衝突。其中,莎士比亞對夏洛克的人物形象刻畫得更是非常鮮明,可稱為眾多莎翁作品中最令人難忘的角色之一,並透過了他唯利是圖丶冷酷無情丶報復心重的誇張性格,帶出了劇中各人對寬容丶正義丶憐憫之間的取捨及角力。
十人或以上的團體更可享受10%的折扣。有關公司和學校的團體門票預訂,請致電2547 7150或透過電郵到INFO@ABA-PRODUCTIONS.COM查詢更多詳情。
劇目的演出時間均為大約2小時15分鐘,包括中場休息。
演出將以英文進行。

'The Yard' is a free seating area and will be available on a first-come-first-served basis when you arrive at the theatre for the performance. Audience Members are seated on cushions on the floor around the stage. The queue for 'The Yard' will open 30 minutes before show time.
Also, please note that Rows in CAT 4 may have a Limited View due to the stage set up.