Presented by ABA Productions and Shakespeare's Globe

September 30th 2018
The Hong Kong Jockey Club Amphitheatre, The Hong Kong Academy for Performing Arts

Two wealthy sisters in Padua must be married off. The modest, demure Bianca has no shortage of suitors, but who on earth will take the wild, ungovernable, 'shrewish' Kate? Perhaps the gold-digging Petruchio, as maddeningly strong-willed and perverse as Kate herself, will be equal to the task of bullying her to the altar.
Shakespeare's outrageous comedy introduces one of theatre's great screwball double-acts, a couple hell-bent on confusing and outwitting each other right up to its controversial conclusion.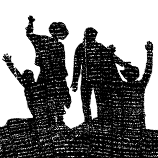 A 10% discount is available for groups of ten or more. For CORPORATE and SCHOOL BOOKINGS, please call 2547 7150 or email info@aba-productions.com
Running time is approximately 2 hours 15 minutes including an interval. The show will be performed in English.
由ABA PRODUCTIONS及莎士比亞環球劇團聯合主辦
2018年9月30日
香港賽馬會露天劇場,香港演藝學院
意大利有一個富有家族的爸爸決意要把兩個女兒嫁出去。小女兒琵茵珈(Bianca)溫柔美麗,不乏追求者,而大女兒愷撒琳(Kate)則兇悍潑辣丶野性難馴,令男人不敢接近,除了覬覦著誘人嫁妝的淘金者彼特魯喬(Petruchio)。或者同樣任性丶性格剛烈的彼特魯喬,真的可以把刁蠻的愷撒琳馴服得體貼聽話⋯⋯
《馴悍記》為著名莎士比亞鬧劇,情節喜劇離奇,劇中男女雙方鬥智鬥力,對白妙語連珠,令觀眾看得直拍手掌。
十人或以上的團體更可享受10%的折扣。有關公司和學校的團體門票預訂,請致電2547 7150或透過電郵到INFO@ABA-PRODUCTIONS.COM查詢更多詳情。
劇目的演出時間均為大約2小時15分鐘,包括中場休息。
演出將以英文進行。

'The Yard' is a free seating area and will be available on a first-come-first-served basis when you arrive at the theatre for the performance. Audience Members are seated on cushions on the floor around the stage. The queue for 'The Yard' will open 30 minutes before show time.
Also, please note that Rows in CAT 4 may have a Limited View due to the stage set up.